Google Slides is a popular alternative for creating presentations instead of using PowerPoint. Whether you don't have access to PowerPoint or you prefer the Google option, this guide is here to help you understand how to add bullet points to Google Slides so that you can make your presentation into the perfect one for your needs. To access this program, you need to go to the Google Slides internet page using any internet browser.
The first step that you need to learn how to add bullet points in Google Slides is to open up the slide to which you want to add bullet points, as seen here: There may be several Google Slides bullet points that you want to add in, or you may only have one or two slides where you want to add the bullet points.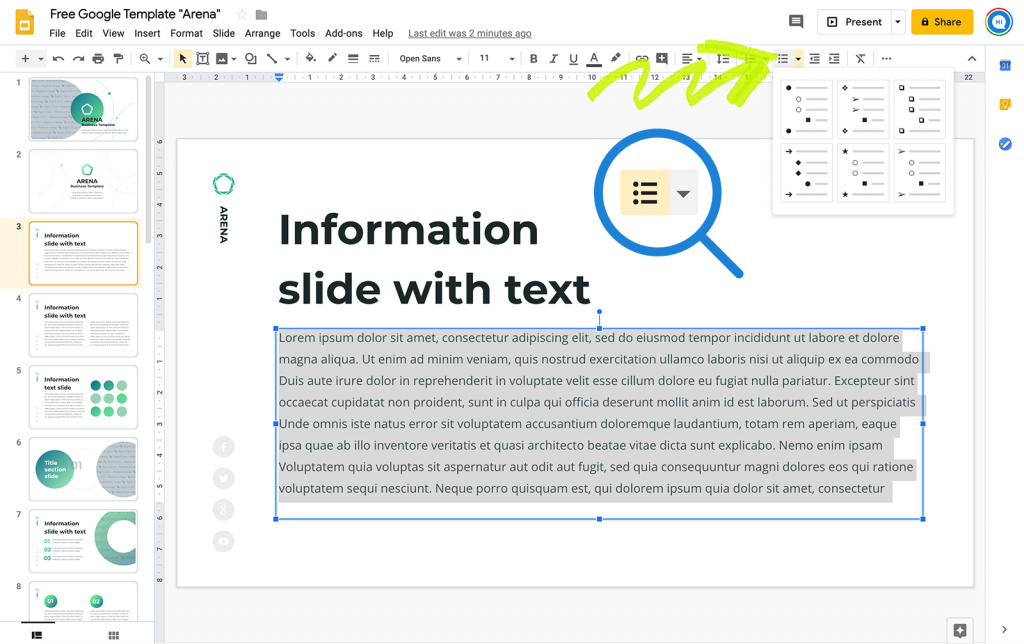 2. The next thing that you need to do to insert bullet points is to select the text to which you want to add bullet points — if you are adding in the bullet points after writing — as seen here. It is essential only to select the text that you want to bullet and to choose every line to which you want to add these bullet points. Otherwise, this will not format the way that you want it.
3. If there is no text yet, click the text area where you want to start adding text. Before you add the text, you want to be sure to add the bullets so that they will automatically add to the text as you write.
4. Click on the button that has the "ellipsis" icon ("…").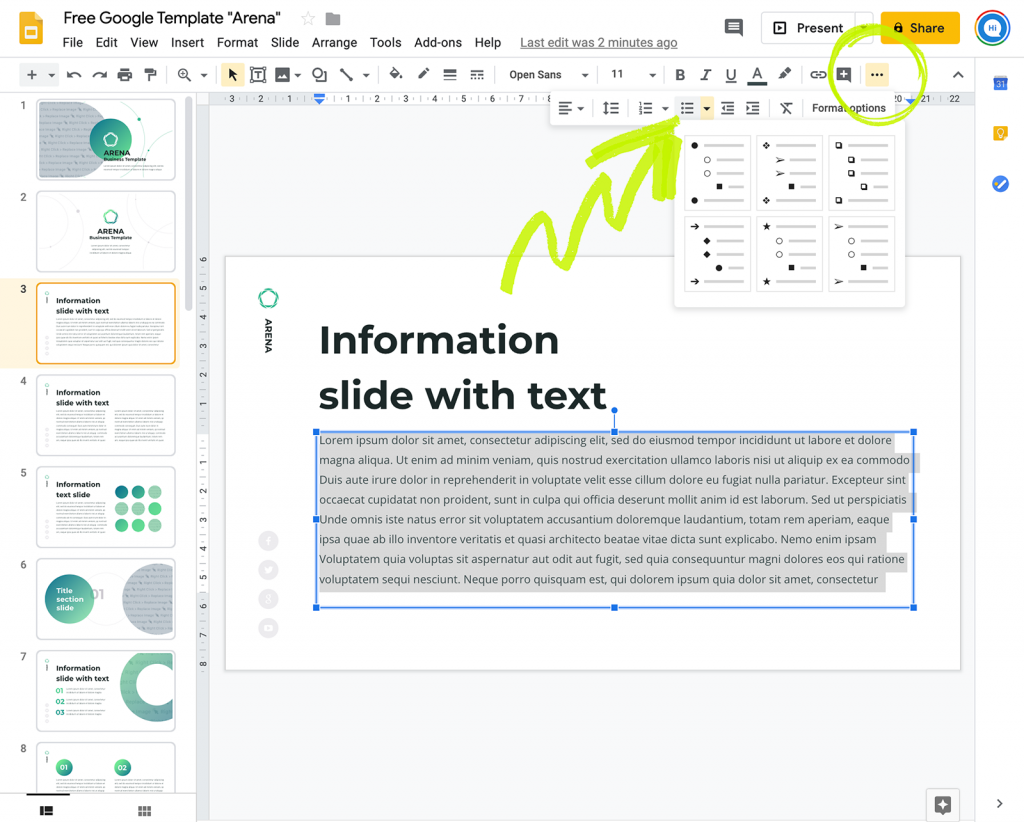 5. As you can see from the above picture, a drop-down menu appears when you click on the ellipsis button. Click on the "Bulleted List" button, or you can use Ctrl+Shift+8 on the keyboard. These will both start a bulleted list where you have selected on the screen.
6. Once you have started this list, you need to hit "Enter" and the next bullet will appear.
You can customize the type of bullet points that you use for your slides, depending on the option that you select. You can also add other bullets to emphasize your bullet points to make your slide easier to read.
This process is one that you would use if you are using an internet browser like Google Chrome or Mozilla Firefox. For information on how to perform this task on other devices, such as your iOS or Android devices, you can check out the support page on Google to help with that. The good thing about using Google Slides is that these will automatically save in the background of your Google account, and you can access these files to edit them on whatever device you are using. This feature makes it a convenient choice to use especially if you are using multiple devices to work on and perfect your slides.