When you give a presentation, you might want to be able to have people talk through it, explaining each slide. In some cases, you won't be able to do this in-person. If this is the circumstance, you should consider adding narration to Google Slides. Let's look at how to add narration to Google Slides.
Guide on how to add narration to Google Slides
How to record audio on Google Slides. Google Slides has no embedded tool to record a voice, but you may use any other program or online services such as Rev, 123Apps or Vocaroo. You will find links to these services below. You may also use the application "Voice recorder" on your smartphone.
Advice: open your presentation when you voice-record. It will help you remember everything and expound your thoughts more precisely. After completing the recording, make sure to save the file on your computer.
2. Upload to Google Drive. As soon as you have created an audio file, you will have to upload it to Google. To make searching for required files easy, the files should be given names reflecting their meaning. If there are many audio files, create a separate folder in Google Drive and upload all files to it.
To upload files to Google Drive, drag the files with the mouse from on your computer ("Drag & Drop" function) or use the menu New > File Upload.

3. Customize the level of access to the file. If you plan to share your presentation, you have to adjust the accessibility of audio files. For this, choose an audio file in Google Drive and press the "Get Link" button in the upper menu. In the opened window, adjust the accessibility of the file for all or selected users. Set the access level "Viewer" then press "Done."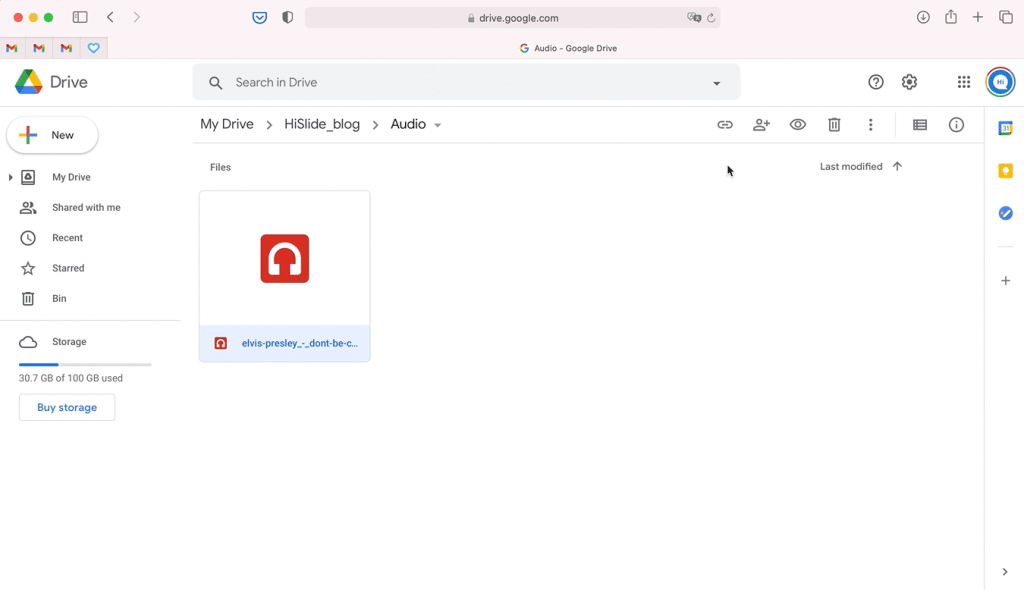 4. How to add a voice-over to Google Slides. Now you are ready to insert the audio file into the presentation. To do this, move to the slide where you want the narration to be. Then, click on the Insert tab, which should cause a drop-down menu to appear. One of the menu options should be Audio. Click on this.
5. Once you've add audio to Google Slides, you will need to locate the correct audio file in your Google Drive. You might find it easier to locate by going to the "Recent" section. Once you find the file, click on it, then click the "Select" button at the bottom of the page.
6. When you have done this, you will notice a speaker audio icon appear on your slide, which is the audio file. You can click it to select and reposition the icon if you want.
7. Customize Your Audio Format Options. If you're going to do more with your audio, you will have to click on the speaker icon, and this will bring up the "Format Audio" tab at the top of your screen. Once you select this, you will be able to change the way the audio is played. For example, you might want to make it quieter. You can do this by adjusting the volume when presenting. You can also stipulate when it will start to play and how long the narration lasts.
8. Ways of playing audio narratives in a presentation. In Google Slides, there are two ways to play back audio files: by clicking the playback icon or with automatic start. An audio file can also either stop being played upon transfer to another slide or not stop. You may combine these functions depending on the task set before you. For instance, you can record separate files for each slide and set automatic playback when viewing a slide and completing playback upon transfer to the next slide.
Conclusion
Hopefully, you now have a better idea of how to insert audio into Google Slides. Knowing these options will allow you to add a new dimension to your presentation. So, try out these techniques for yourself today.