When you create a presentation, it's essential to consider the way your audience will view it. For example, most people prefer to hold their phones vertically, which can mean that a horizontal show won't have the same effect. Thankfully, you can combat this by designing your presentation to be viewed in this way. To help you do this, let's look at how to make Google Slides vertical.
Make Google Slides vertical
Video Tutorial Quick Skill by HiSlide: How to make Google Slides vertical
2. Go to Page Set-Up. The first step is to navigate to the page set-up options. You can do this by clicking on the File button on the top left-hand side of the screen. A menu of drop-down options will be presented. At the bottom of this list, you will see a Page set-up option. This selection controls the way that your slides will be viewed. To make vertical Google Slides, you will have to click on this option.
3. Select a Custom Layout. In the Page set-up section, you will see the standard Widescreen orientation has been applied. However, to turn the slides vertically, you will need to change this ratio. To do this, click on the Widescreen button. This choice will cause a drop-down menu to appear. From this menu, choose the Custom layout option.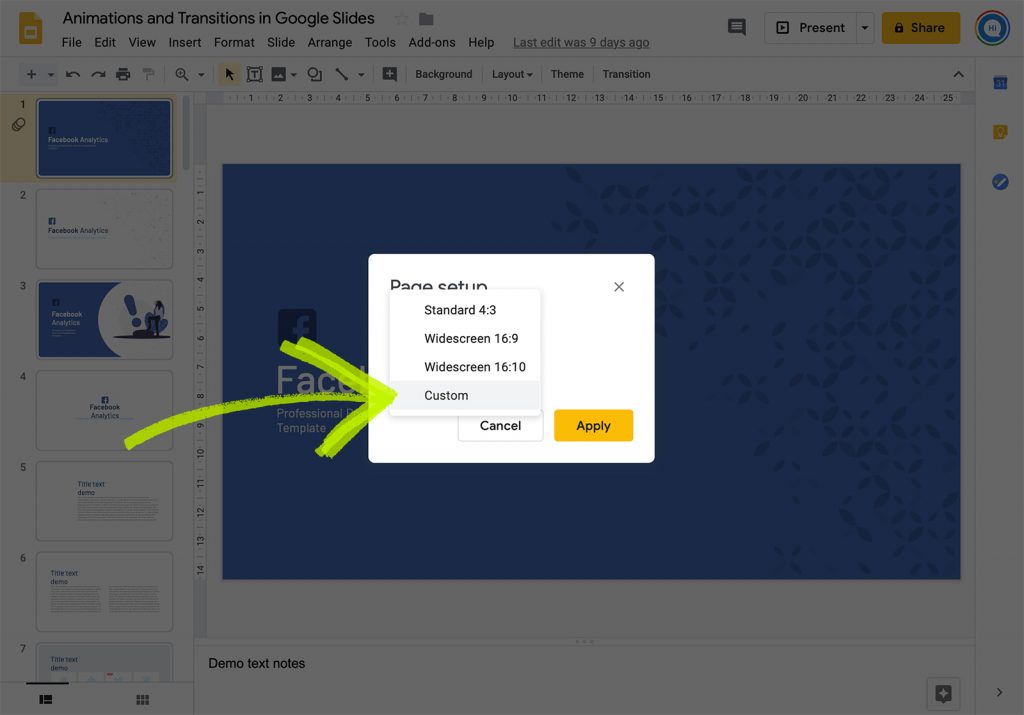 4. Swap the Measurements. When you click on the Custom layout, you will notice that there are measurements already in place. Remember that these have been designed for horizontal viewing. To turn the presentation vertically, you will have to reverse the measures. Once done, hit the OK button. This selection will apply the changes. It should be noted that these changes will apply to every slide in the show, which means that you can't make one part of the show horizontal while another section is viewed vertically.
5. Check the New Dimensions. Once you have checked hit the OK button, your custom dimensions will be applied throughout your Google Slides presentation, turning it vertical. However, there are some instances where you might not be entirely satisfied with the result. For example, it might have made the presentation look too thin. In this case, go back into the Page set-up section and enter new custom dimensions. By selecting new dimensions, it will allow you to find something with which you are satisfied. While making your selection, remember to think about what it looks like when you give the presentation. To help you see this, click on the View tab, which will open a drop-down menu. At the top, you will see the Present button. When you click on this, you can see what the audience members will experience during the slide show. This view will give you a better idea of which dimensions you should be using to create the presentation.
6. A table of the proportions and sizes of Google slides in landscape or portrait (vertical) slide orientation.
Conclusion
It's essential to have multiple options when you are making a Google Slides presentation, which can mean changing the layout to suit your needs better. Hopefully, you now know how to adjust to vertical on Google Slides. So, use these techniques to change the orientation of your presentation today.