Ever tried opening a Keynote presentation on your PC and felt like you're trying to fit a square peg in a round hole? You're not alone. Let's dive into the world of cross-platform compatibility and find a solution.
In an ideal world, every file format would be universally compatible. But alas, we're not there yet. Especially when it comes to Apple's Keynote and the Windows PC.
Step-by-Step Guide: Using iCloud to Open Keynote on PC
Navigating the world of presentation software can be tricky, especially when you can't open Keynote files directly on a Windows computer. But don't fret! Here's a detailed tutorial to help you view and use your Keynote presentations on a PC.
Setting Up iCloud for Keynote on Windows
Step 1: On your Windows browser, navigate to iCloud.com.

Step 2: Sign in using your iCloud account credentials. If you don't have an iCloud account, you'll need to create one.
Step 3: Once logged in, you'll see various Apple apps available. Click on the Keynote icon to start using Keynote for iCloud.

Accessing and Viewing Your Keynote Presentations
Step 1: Inside Keynote for iCloud, you'll see a list of your presentations. These are the same presentations you've created or received on any Apple device linked to your iCloud account.

Step 2: To view a specific key file on Windows, simply click on the desired presentation. This will open the presentation right in your PC web browser.

Converting Keynote to Microsoft PowerPoint Format
If you need to open and edit your Keynote presentation in Microsoft PowerPoint or share it with Windows users who might not know how to open Keynote on Windows, converting it to a PowerPoint file is a smart move.
Step 1: In Keynote for iCloud, open the Keynote presentation you want to convert.

Step 2: Navigate to the top menu and select icon "…" followed by "Download a Copy…" 

Step 3: A dialog box will appear, prompting you to choose the version of PowerPoint you want to export to. Select the appropriate version.



Step 4: Once the conversion process is complete, download the PowerPoint file to your Windows computer. This file will now be in .pptx format, which means you can open and edit it on your Windows machine using Microsoft PowerPoint or any other compatible presentation software.
Tips for Windows PC Users
If you've received a Keynote presentation and don't want to go through the iCloud process, consider asking the sender to export the file in PowerPoint format before sending.
Remember, while Keynote is an Apple product, with the online version of Keynote on Windows through iCloud, you can access, view, and even edit your presentations not just on Windows but also on other platforms.
For those who frequently migrate presentations from PowerPoint to Keynote or vice versa, always check the presentation's formatting. Some features in Keynote might not be available in PowerPoint and vice versa.
Converting Keynote to PowerPoint: A Comprehensive Guide
When you've crafted a beautiful presentation in Keynote but need to share it with someone using a Windows PC, converting it to a PowerPoint presentation becomes essential. Apple Keynote is a fantastic tool, but it's not natively available for Windows. So, how do you bridge this gap? Let's delve into a step-by-step tutorial to convert your Keynote slides into a format that's friendly for Windows PCs.
Preparing Your Keynote Presentation
Step 1: Open the desired Keynote presentation on a device with Keynote installed. This is typically a Mac or an iPad.

Step 2: Before you proceed with the conversion, ensure that your presentation is finalized. Check if the file was last edited recently and if all the elements are in place.
Initiating the Conversion Process
Step 1: With your Keynote presentation open, navigate to the top menu and select "File."

Step 2: From the dropdown menu, hover over "Export To." A side menu will appear. Here, select "PowerPoint." This option allows you to migrate it to PowerPoint format, making it easier to open files on a Windows PC.

Customizing the Export Settings
Step 1: A dialog box will pop up, offering different export options. Ensure you're exporting to the .pptx file format, which is the standard for Microsoft PowerPoint presentations.

Step 2: Depending on your needs, you might want to explore other settings. For instance, Keynote now supports exporting your presentation into a PowerPoint document or even as a QuickTime movie. Choose the format that best suits your needs.
Saving and Transferring the File
Step 1: Once you've selected the desired format, click "Next." You'll be prompted to save the file. Choose a location on your Mac where you can easily retrieve it.
Step 2: After saving, transfer the file to your Windows PC. You can use a USB drive, email, or any cloud storage solution. If you're using iCloud, you can use this same iCloud account to access the file on your Windows devices.
Opening the File on Windows
Step 1: Once you've transferred the file to your Windows PC, locate it and double-click to open. If you have Microsoft PowerPoint installed on the Windows machine, it should open like any other PowerPoint presentation.
Step 2: If you don't have PowerPoint, consider using alternatives like File Viewer Lite or other presentation software that supports the .pptx format.
Exploring Third-Party Software for Keynote Conversion
While Apple's Keynote offers its own methods to export to PowerPoint, sometimes you might find yourself in a situation where you can't access the original Keynote software or need an alternative solution. This is where third-party software comes into play. They provide another way to open and convert Keynote presentations, ensuring you can access your Keynote presentation right from a Windows PC. Let's explore some popular third-party tools and how to use them.
CloudConvert
CloudConvert is a versatile online tool that supports a myriad of file conversions, including Keynote to PowerPoint.


Step 1: Navigate to the CloudConvert website.
Step 2: Click on "Select Files" and upload your Keynote presentation.
Step 3: From the dropdown menu, choose the .pptx file format for PowerPoint for Mac or Windows.
Step 4: Click "Start Conversion." Once done, download the converted file to your PC.
Zamzar
Zamzar is another reliable online converter that can transform your Keynote format presentations into PowerPoint.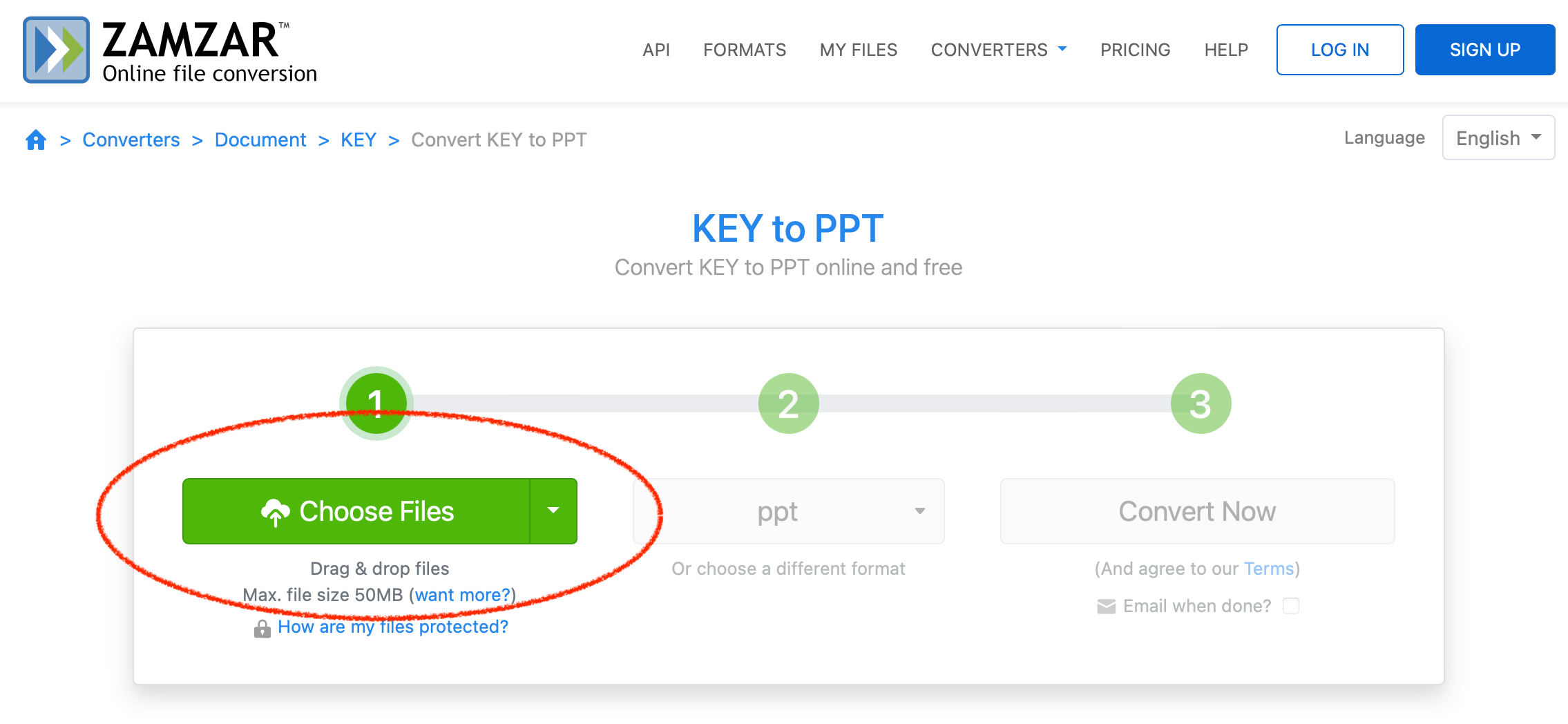 Step 1: Visit the Zamzar website.
Step 2: Click on "Add Files" and select the Keynote presentation you want to open on Windows.
Step 3: Choose the .pptx file format from the conversion options.
Step 4: Click "Convert Now." After the conversion, download the file to access it on any Windows PC.
Document.Online-Convert
Document.Online-Convert is a comprehensive tool that not only allows conversions between Keynote and PowerPoint but also offers other file manipulations.

Step 1: Go to the Document.Online-Convert website.
Step 2: Under the "Document Converter" section, select "Convert to PowerPoint."
Step 3: Upload your Keynote file.
Step 4: Ensure the target format is set to .pptx and then click "Start Conversion." Download the converted file once the process is complete.
While it's a bummer that Keynote isn't natively supported on PC, there are workarounds. Whether you choose iCloud, conversion, or third-party software, the key is finding what works best for you.
FAQs
Can I edit Keynote presentations on PC?
Yes, using iCloud's web version of Keynote allows editing.
Is there a Keynote app for Windows?
No, Apple hasn't released a Keynote app for Windows.
Do I need an Apple ID to use iCloud?
Yes, an Apple ID is required to access iCloud services.
Are there any free third-party software options?
Yes, but always ensure they're safe and reputable before downloading.
Can I convert Keynote files to formats other than PowerPoint?
Yes, Keynote allows exporting to PDF, HTML, and other formats.