Google Slides is a free online presentation program that lets you create slideshow presentations that can contain text, images, shapes, sounds, animations, and videos.
You can think of Google Slides as a basic yet online version of Microsoft PowerPoint that offers similar and different features. The primary advantage of Google Slides is that it allows real-time slide sharing and collaboration without the need to send attachments back and forth.
In this article, you will learn the process of how to rename slides in Google Slides.
For each time you create a new presentation in Google Slides, it is by default titled "Untitled presentation." You will find the name on the top left corner of the new slide screen. You rename the template by clicking the name of it in the upper-left corner and typing an appropriate name or your desired title.
And, whenever you work online, the changes are saved nearly instantaneously, which is why there is no 'Save' button in Google Slides.
There are different ways to rename a presentation based on whether the presentation is in your Drive list or opened in slides. Nevertheless, you should not forget to rename it.
Additionally, when you link to slides in the presentation, you'll be presented with the names of the slides. Since the slides already have a name, having the ability to rename the slides comes in handy when you are working on several slides.
So, how can you rename each slide on Google Slides? In most cases, slides are named automatically, which tend to be based on the content of the title text. However, if you don't have this title element, or you utilize the title element for something else, the names of your slides can be different from how you want them to be—another reason why renaming slides can be useful.
Renaming a slide in Google Slides
When naming files, ideally, you should do so in a manner in which you and your collaborators know the contents or give a brief description of the slides. Try to be explanatory and avoid numbering files that have edits from previous versions. The names of slides in Google slides can be up to 255 characters long.
Essential steps to rename a Google Slide when open in slides
Be sure to be in the Google Slide window.
Click on 'Untitled presentation' or other relevant wording in the top left corner.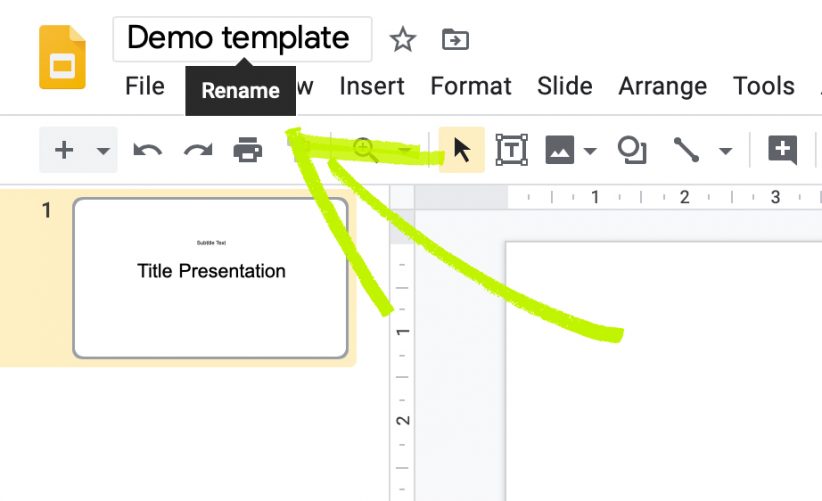 3. Enter the new name.
4. Click 'Ok' to confirm and save changes.
Alternatively, you can do the following: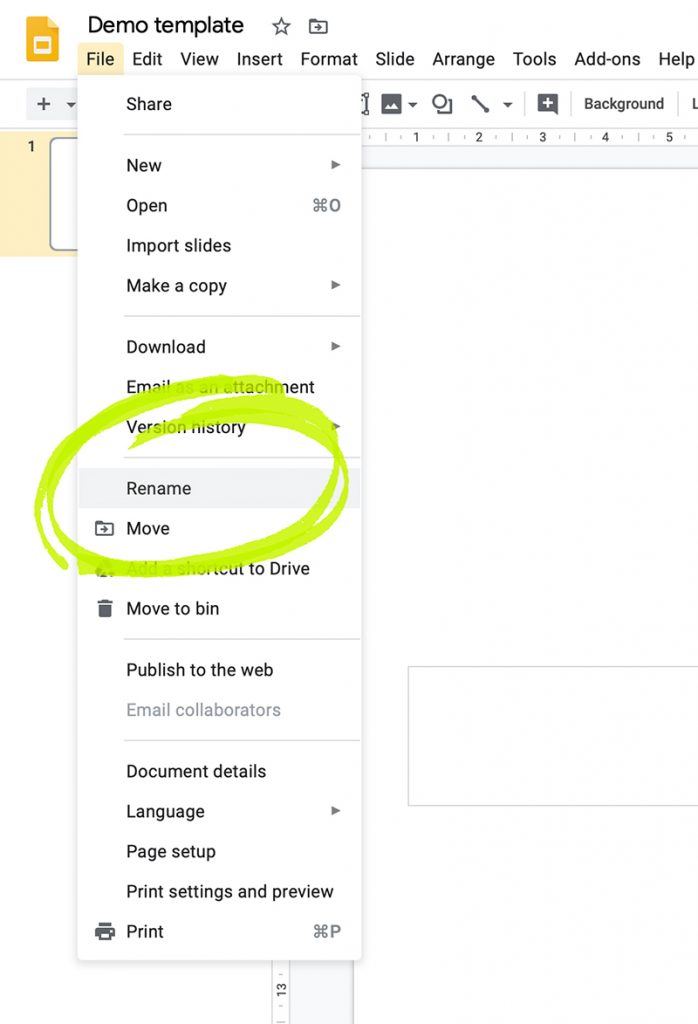 Click the 'File' tab from your doc.
Click on 'Rename.'
Enter your new title.
Click 'Ok' to confirm and save changes.
Essential steps to rename a Google Slide when in drive
From Drive, click the 'More' menu button.
2. Click on 'Rename'.
3. Enter your new title.
4. Click 'Ok' to confirm and save changes.
Renaming Google Slide master slide
If you want to rename the Master slide, you can click 'Rename' from the menu above, or you can right-click the context menu, as shown in the following image: