A photo slideshow can bring your PowerPoint presentation to life. In this article, you'll learn step-by-step how to make a compelling photo slideshow in Microsoft PowerPoint. We'll cover choosing your photos, arranging them, adding transitions, music, and text – everything you need to create a dynamic slideshow your audience will love. Whether you're a PowerPoint beginner or experienced user, you'll find tips to take your next slideshow from ordinary to extraordinary.
Getting Started Create Slideshow in PowerPoint
To begin making your photo slideshow in PowerPoint, first open the PowerPoint application. Click on the "File" menu and select "New." This will open a new blank presentation.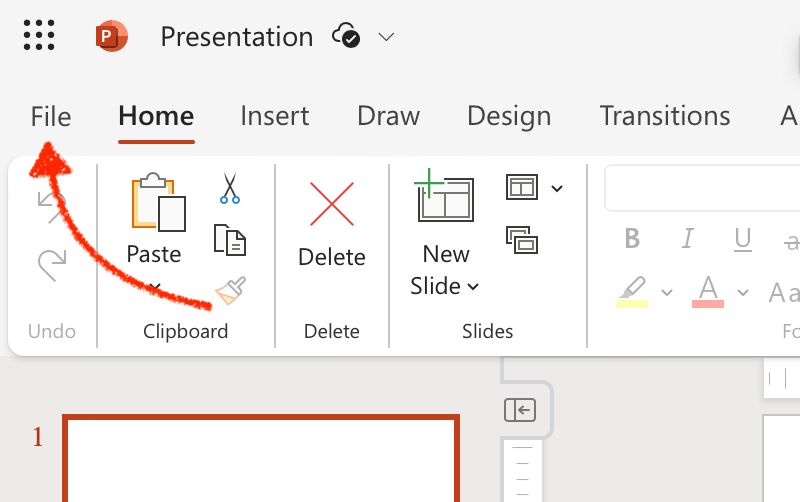 Next, you can copy and paste a slide from a template to give your slideshow a professional design. Click on the "Design" tab and browse the various template options. Choose one you like and copy the slide. Paste it onto your new blank presentation.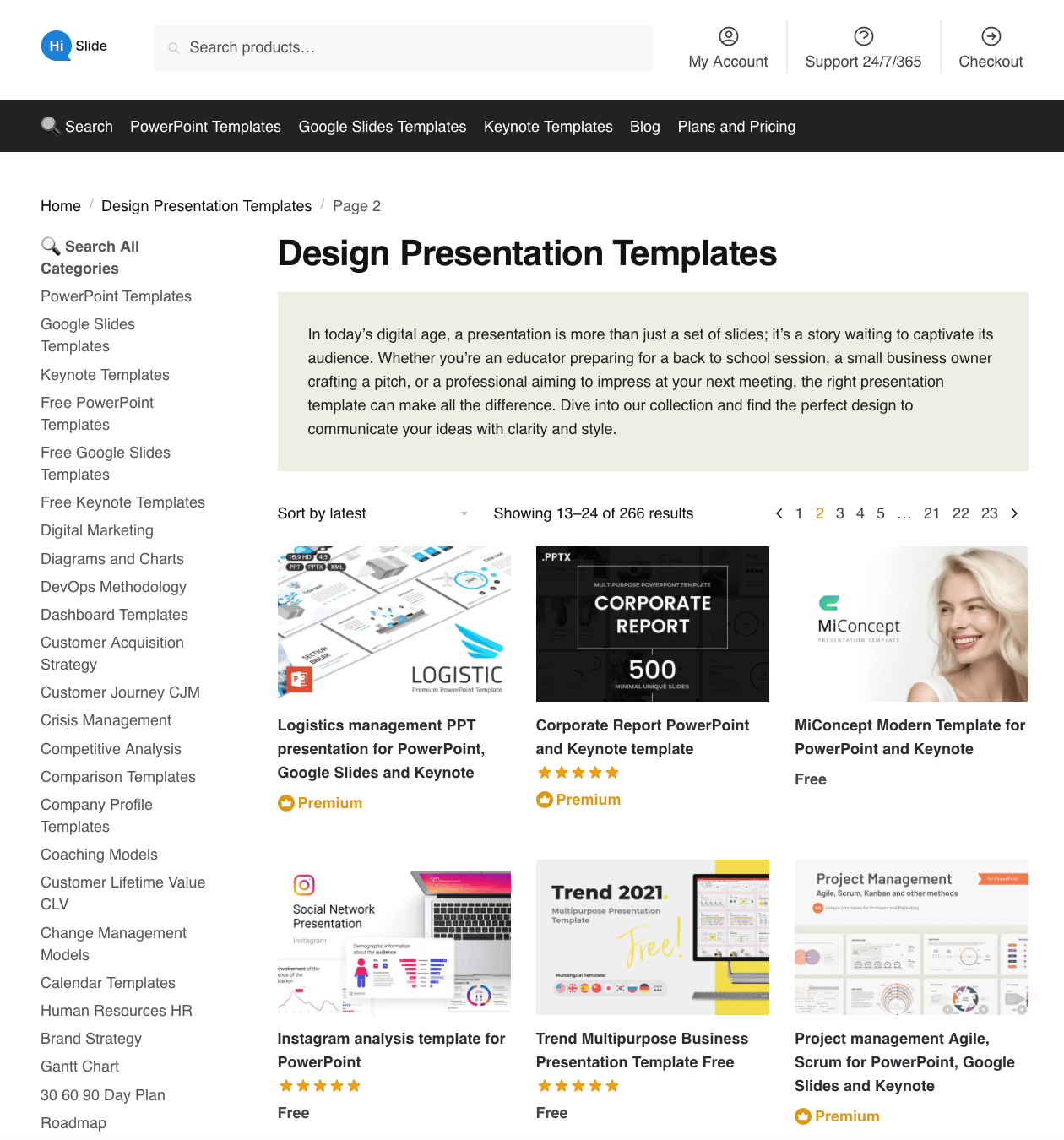 Now you can customize this template slide for your photo slideshow. Change the title, subtitle, and text box colors and fonts to match your brand or theme. You'll also want to delete any placeholder images and ensure the slide layout works for photos. The title and text boxes should not cover up the main photo area.
Add Photos to Your PowerPoint Slideshow
Step 1: Inserting a Single Photo
Navigate to the "Insert" tab at the top of the PowerPoint interface.

Click on the "Pictures" option. This will allow you to browse your computer and select the photo you want to add.

Choose the desired image and confirm to insert it onto your slide. This method is ideal when you're aiming for a different and selective approach in your presentation.
Step 2: Adding Multiple Photos Simultaneously
If you're planning to create a photo slideshow with several images, gather all the photos you want to use in one folder or photo gallery.

Select all these images at once.

Simply drag the slides from the folder and drop them directly onto the PowerPoint slide. This batch insertion saves time and ensures consistency in your slideshow.
Step 3: Adjusting and Refining Your Photos
Once your photos are on the slide, click on any image. This will reveal the "Picture Format" tab ("Picture" tab) at the top of the bar.

Using the tools available, you can crop, resize, and adjust each image to fit your slide perfectly. This step ensures each photo complements the overall slide show aesthetic.

Step 4: Ensuring Harmony Between Photos and Slide Elements
Review each slide to make sure photos don't overlap with titles, bullet points or short text boxes.
Adjust the position or size of photos if they obstruct any slide elements. This ensures your slides in PowerPoint are both visually appealing and easy to understand.
Step 5: Exploring Additional Features (Optional)
For users on a Mac, familiarize yourself with any interface differences.
Explore the "Animation" and "Transitions" tabs if you wish to add dynamic elements to your slideshow.



To add audio, look for the audio icon and follow the prompts to insert sound.

For a continuous presentation loop, select the "loop continuously" option in the slideshow settings.
Dive into the "Slide Layout" or "Picture Layout" options to experiment with different visual arrangements for your content.
Make a Custom Title Slide
Step 2: Inputting Your Title and Subtitle
On your first slide, click on the default title box to input your main title. This should encapsulate the essence of your presentation.

Below the title, there's a space for a subtitle. Use this to provide additional context or a secondary message related to your main theme.
Step 3: Enhancing Text Aesthetics
Highlight the title text. Navigate to the "Home" tab at the top, where you can explore various font styles. Choose one that aligns with your presentation's theme.

Adjust the font size to ensure your title stands out. For added emphasis, you can click on the text and select the 'Bold' option.

Step 4: Dabbling in Color Choices
With your title or subtitle text highlighted, click on the text color option in the "Home" tab. Select a color that complements your presentation's theme.
For the slide background, right-click on an empty space on the slide and choose 'Format Background'. Here, you can opt for a solid color or a gradient fill, ensuring it contrasts well with your text color.

Step 5: Embedding a Relevant Image
To further enhance your title slide, consider adding an image that ties in with your presentation's theme.
Go to the "Insert" tab and select "Pictures." Browse and choose a suitable image from your computer or photo album.

Once inserted, adjust the image's size and position it behind your title and subtitle. Ensure the image doesn't overpower the text but complements it.
How to Add Music into Your Microsoft PowerPoint Presentation
Step 1: Initiating the Audio Addition
Navigate to the slide where you want the music to start playing.
Head over to the "Insert" tab located at the top of the interface.
Within this tab, you'll find an option labeled "Audio." Click on it, and a dropdown will appear. Choose "Audio from File."

A window will pop up, prompting you to browse through your computer's directories. Search for the desired song or instrumental track you wish to add music to your slide show in PowerPoint and select it.

Step 2: Modulating the Audio Volume
Once the audio file is inserted into your slide, an audio icon will appear on the slide, and a new tab named "Playback" will be available at the top.

Click on the "Playback" tab. Here, you'll find a volume icon. Clicking on it will reveal a slider.

Use this slider to adjust the audio volume. If you're aiming for background music that doesn't overpower your presentation's content, set the volume to a lower level.
Step 3: Selecting the Right Tune for Emotion
The music you choose plays a pivotal role in setting the mood for your slideshow on PowerPoint.
Reflect on the emotion or message you want to convey with your slides. Whether it's nostalgia, excitement, or inspiration, pick a track that heightens this emotion.
Remember, the right song or instrumental piece can amplify the impact of visual transitions, making slide transitions to your slide more dynamic and engaging.
Bonus Tip:
If you want the music to play across multiple slides or throughout the entire presentation, go to the "Playback" tab and check the box next to "Play Across Slides." This ensures the music flows seamlessly as you transition from one slide to the next.

How to Add Engaging Transitions to Your Presentation Slide Show
Step 1: Exploring the Transition Palette
Navigate to the "Transitions" tab located at the top of the interface. This is where the magic happens!

As you click on the "Transitions" tab, you'll be presented with a variety of options like Fade, Push, Wipe, Split, and more. These are designed to make the slideshow more dynamic and visually appealing. Browse through these options and select a transition that aligns with the style and mood you want to convey.

Step 2: Fine-Tuning the Transition Speed
Once you've chosen a transition, you'll notice a section labeled "Duration" within the "Transitions" tab.

By default, the transition duration is set to 1 second. However, if you're aiming for a more relaxed and deliberate pace, especially for photo slideshows, adjust this to 2-3 seconds. This ensures each photo or slide lingers a bit longer, allowing viewers to fully absorb the content.
Step 3: Maintaining a Uniform Transition Style
Consistency is key to a professional-looking presentation. Instead of mixing and matching various transitions, which can be jarring, opt for a uniform slide motion effects style.
After selecting your preferred transition and adjusting its duration, click on the "Apply To All" button. This ensures the same transition style and timing is applied to every slide, creating a cohesive flow smoothly from one slide to the next.

Step 4: Taking a Sneak Peek of Your Transitions
Before finalizing your presentation, it's always a good idea to preview your slide motion effects.
Navigate to the slide you wish to preview and click on the "Preview" button within the "Transitions" tab (or "Present"). Watch how the slides flow smoothly from one to the next, ensuring the slide motion effects enhance the viewing experience without being overly distracting.

How to Elevate the Visual Appeal of Photos in Your PowerPoint Presentation
Step 1: Fine-Tuning Brightness and Contrast
Launch Microsoft PowerPoint and navigate to the slide containing the photo you wish to enhance.
Click on the photo to select it. This will reveal the "Picture Format" tab (or "Picture") at the top.

Within this tab, locate the brightness and contrast sliders. Adjusting these can significantly improve the clarity and visibility of your image, ensuring it looks its best on the big screen.
Step 2: Amplifying Color Vibrancy
Still within the "Picture Format" tab, look for an option labeled "Color Saturation."
Boosting this will make the colors in your photo more vivid and pronounced, allowing your images to truly make a photo slideshow stand out and captivate your audience.
Step 3: Thoughtful Application of Filters
In the same "Picture Format" tab, you'll find an option labeled "Color." Clicking on this will reveal a dropdown with various filter effects, such as black & white, sepia, or vintage.
While these filters can add a unique touch, it's crucial to use them sparingly. Over-filtered images can appear unprofessional or distract from the content.
Step 4: Incorporating Delicate Visual Effects
Beyond color adjustments, PowerPoint offers a range of subtle effects to enhance your photos further.
Explore options like shadows, reflections, or even 3D effects to add depth and dimension to your images. However, remember the golden rule: moderation is key. Overly dramatic effects can detract from the image's core message.

Step 5: Individual Photo Refinement
As you progress through your slide show in PowerPoint, take the time to enhance each photo individually. This attention to detail ensures a consistent and high-quality visual experience throughout your presentation.
However, always use restraint. Not every image may need adjustments, especially if they're already of high quality.
How to Efficiently Save and Distribute Your PPT Presentation
Step 1: Initial Saving of Your Slideshow
After finalizing your presentation in Microsoft PowerPoint, it's essential to save it in its native type.
Navigate to the "File" menu located at the top-left corner.

From the dropdown, select "Save As." Choose a suitable location on your computer and save the presentation as a .pptx PowerPoint file. This ensures you have the original file for any future edits or modifications.

Step 2: Transforming Your Slideshow into a Video
If you're looking to share your slideshow in a more dynamic format, Power Point offers the option to export it as a video.
Click on the "File" menu again and navigate to "Export."
Here, you'll find an option labeled "Create a Video." Select this and choose the desired video quality, typically MP4 file. This makes your slideshow more accessible and playable on various devices.
Step 3: Broadening Your Audience Reach
With your slideshow now in video type, you can upload it to popular platforms like YouTube, Vimeo, or even Google Drive.
Uploading to these platforms allows for wider sharing, making it accessible to colleagues in the workplace, friends, or the general public.
Step 4: Converting to a Portable Format
For those who prefer static slides or need a print-friendly version, converting your presentation to PDF is a great option.

Under the "File" menu, find the "Export" option again and select "Create PDF/XPS Document." This format is perfect for sharing via email, embedding on your website, or posting on social media platforms.
Step 5: Universal Sharing
With your presentation now available in multiple formats, you're equipped to share it virtually anywhere! Whether it's a video link, a downloadable PDF, or the original PowerPoint file, you can distribute your engaging slideshow to a diverse audience across various platforms.
Conclusion
Creating a compelling photo slideshow in PowerPoint just takes a few simple steps. In this guide, we covered choosing an eye-catching template, importing photos, adding animation and music, customizing the title slide, and enhancing image quality.
With the right combination of great visuals, audio, animation, and text, you can make an engaging slideshow. Use these tips to take your PowerPoints photos from bland to brilliant.
Now you have all the tools to make your own dynamic photo slideshow presentation in PowerPoint. Bring your photos to life and impress any audience. Just follow this guide's step-by-step instructions. Soon you'll be a PowerPoint slideshow pro!