Microsoft PowerPoint has become increasingly versatile over the years. What initially started as a simple business presentation tool has gradually become a dynamic platform to communicate messages for companies, organizations, and people alike. The evolution of PowerPoint has seen the introduction of many useful features, which have helped create more captivating and educationally inclusive presentations. However, one of these features that has remained the most useful over these years is one of the most basic.
The shapes feature one of the most versatile but straightforward tools in all of PowerPoint. In using the shapes feature, you can create custom charts and graphs, to pictures and text. With such a dynamic tool at your disposal, it is essential to know how to utilize it to maximize its usefulness properly. With the shapes feature, you can draw freeform shapes, add preset shapes to your PowerPoint, resize, and even group any number of shapes together. We will begin this tutorial by examining how to draw freeform shapes.
Freeform shapes
Drawing freeform shapes offers incredible customization in your presentation. Here is how to draw a freeform shape in PowerPoint:
Navigate to the 'Insert' tab and select the 'Shapes' feature.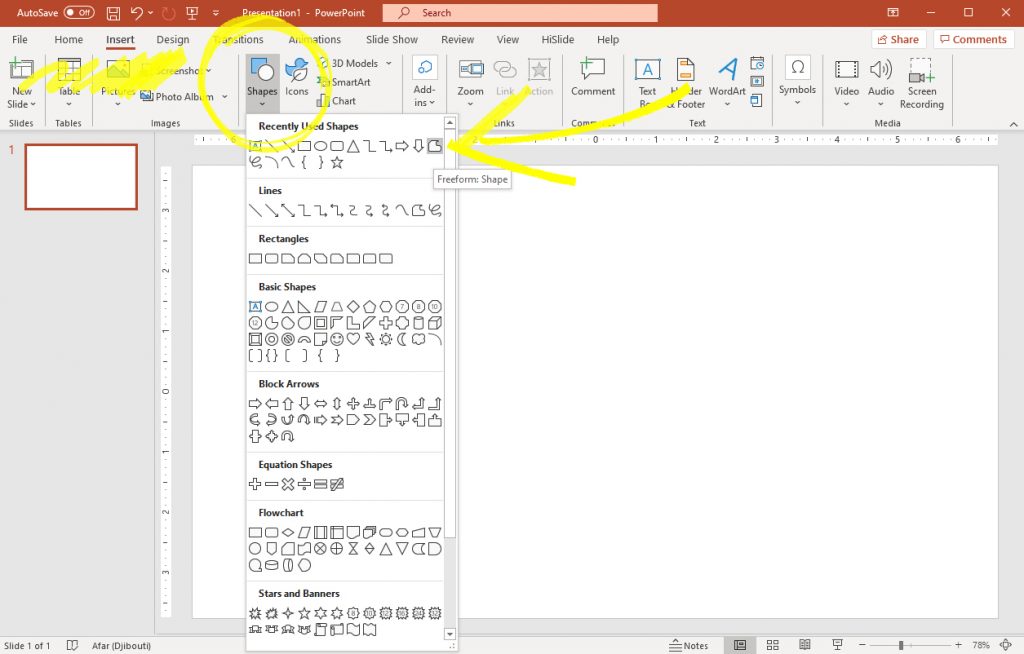 2. In the dropdown, single-click the 'Freeform' option.
3. From here, you can draw a freeform shape by clicking and holding the left mouse button and tracing your desired shape. When done, press the 'Esc' key, and you will have completed drawing your freeform shape.
Adding shapes
Adding shapes in PowerPoint is done following the same steps as drawing a freeform shape. However, instead of selecting the freeform option in the shapes dropdown, you can choose from numerous preset shapes provided by PowerPoint. This method is incredibly convenient, as, with a few quick clicks, you can insert several different shapes to fit your needs.
Resizing and grouping
When it comes to either preset or drawn shapes, you will more than likely have to resize or group them together for them to work within your presentation. You can do so by following the tutorial below, starting with resizing.
Resizing
Start by single-clicking the shape you wish to resize.
The shape will display several handles along the perimeter, with a gold one that adjusts the width or edge of the shape.
3. To resize the shape by dragging, simply click and hold one of the corner handles and drag to the desired size. Alternatively, you can also resize the shape by entering the desired dimensions manual in the 'Format' tab the appears when selecting the shape.
Grouping
Grouping shapes allows you to combine several shapes to create a picture, chart, graph, or the like without adjusting each shape individually.
While holding the 'Shift' key, single click your desired shapes.
Navigate to the 'Format' tab and select the 'Group' feature to combine the shapes. Keep in mind that you can also ungroup these shapes by selecting 'Ungroup' as well.