While some people might need help developing and customizing a Google Slides presentation, others are quite fluent in the skills required to present a well-organized, cohesive display. However, there are also quite a few ways to present your slides.
In this tutorial, you'll get an introduction to the different types of presentation modes and then get an in-depth understanding of the Presenter View that you can use.
Presentation modes
There are three different options when presenting your Google Slides presentation. To see these options and select the one you wish to use, go up to your screen's upper right corner, a tab labeled "Present." You can also press Ctrl (Cmd) and F5 to open the most accessible, simplest presentation option.
If you want to choose another option, click on the dropdown arrow beside the "Present" tab to avoid doing the same old thing as everyone else. There are three options for presenting under this dropdown arrow. The opportunities presented to you will depend on the devices you have set up and available for use.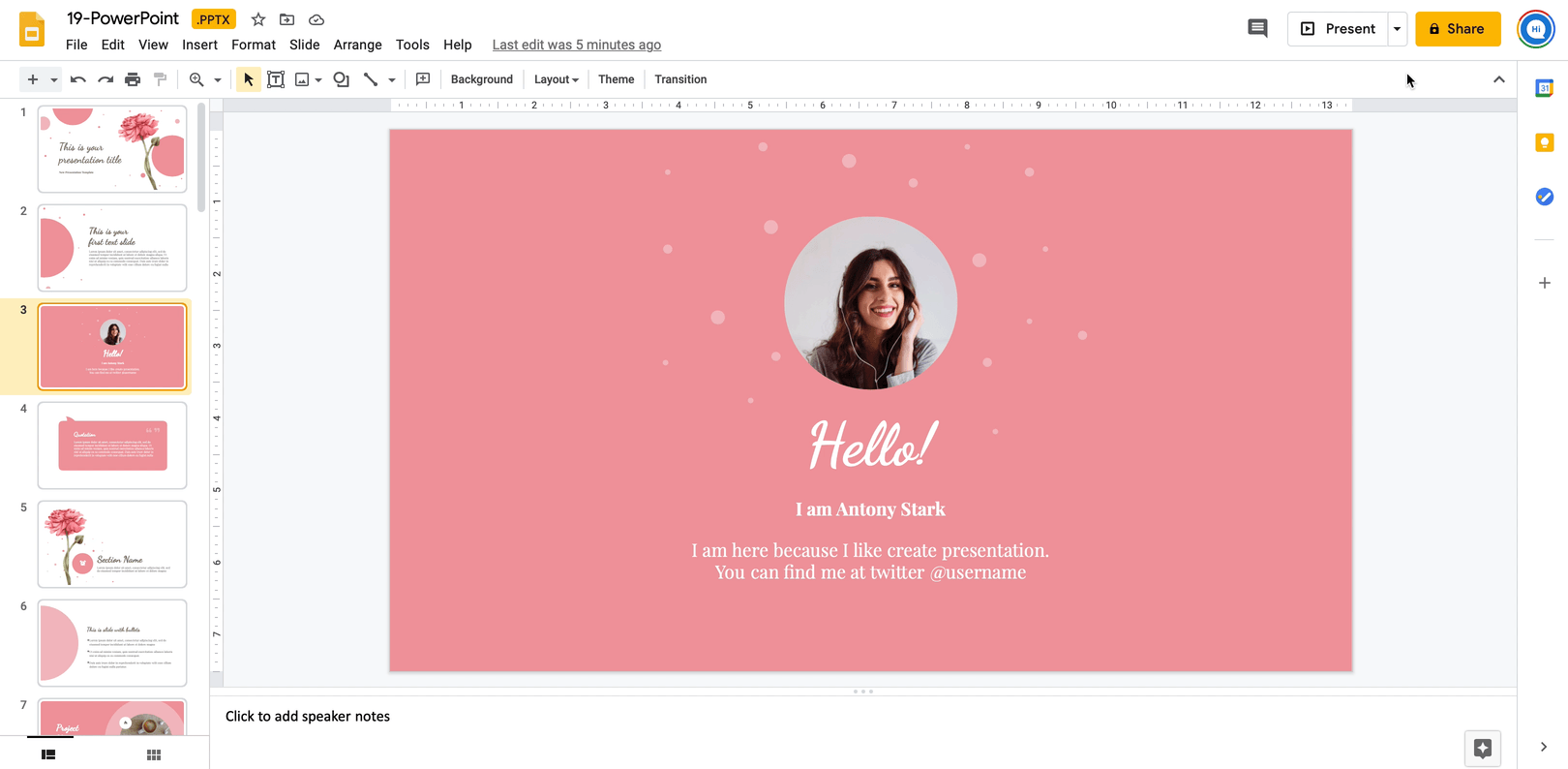 These three options are
Presenter view – When you choose this option, a window will appear, which will allow you to utilize different settings. You'll also be able to see your speaker notes.
Present from the beginning. With this option, your presentation will begin on the first slide.
Present on another screen. To present a different screen, you need to access a media display device, such as Chromecast.
Options and settings under presenter view
Once you've opened the presentation mode under "Presentation View," you'll have access to a toolbar as well as a window that allows you to make changes to settings and alternate options.
Here's a list of options and settings available for altering under Presenter View:
"Previous slide" will allow you to move back to a slide already passed in the presentation.
"Next slide" will allow you to move on to the next slide in the presentation line-up.
"Play" will begin playing your slideshow, flipping through them automatically. to change the interval times between the changing slides, go under settings.
"List of slides" will allow you to choose a particular slide.
"Q&A" If your Audience Q&A is enabled, you can open the panel with this option.
"Notes" Clicking this will make any speaker notes visible.
"Pointer" Choosing this option will create a red pointer you can control to direct attention during your presentation.
"Captions" You can only use this option if you have a mic, and by choosing the dropdown arrow, you can adjust the caption settings.
"Tips" will make a window appear that offers useful keyboard shortcuts.
"Settings" Under this option, you'll be able to do things like open your notes, adjust the times, and download your presentation.
"Fullscreen" You can exit and enter a full screen with this option.
"Exit" Use this to exit your presentation or press the Esc on your keyboard.
Understanding how to open and utilize all these options under Presenter View will enable you to make the most out of your presentation's experience.